CHICAGO – May 23, 2019 – Lantern Partners, a premier, retained executive leadership recruitment firm, is pleased to announce the launch of its Healthcare and Life Sciences practice and the appointment of James (Jamie) Pruett, as practice leader and firm partner.
Healthcare and Life Sciences has been a growth area of Lantern Partners' business for nearly a decade, with marquee clients including GE Healthcare and IQVIA along with many investor-backed companies in the healthcare technology space. Tapping Pruett as practice leader, Lantern has added Healthcare and Life Sciences as its newest core practice area, to complement existing practices in Investor-Backed Technology, Information Officers and Management Consulting. In this role, Pruett will develop and manage national client relationships, lead client engagements, and deliver high-performing talent within the C-suite, operations, finance, human resources, strategy, research and development, and sales.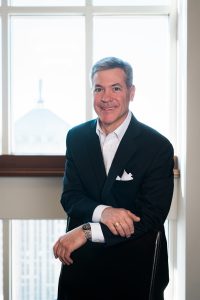 "We have built a solid foundation in the healthcare, life sciences and healthtech arenas, and we believe that this is the right time to elevate this into a core practice area. We couldn't be more excited to have someone of Jamie's caliber join our team and lead that effort," said Paul Maranville, managing partner of Lantern Partners. "As the regulatory environment and the move toward consolidation continues to transform the healthcare industry, we are armed with the expertise, breadth of services, focus and integrity that will allow us to continue to service our healthcare clients to the highest possible degree."
With more than 25 years of experience in health care, life sciences, and professional/financial services industries, Pruett has earned a solid reputation serving a breadth of clients including BJC HealthCare, Centene, Duke University Health System, Invacare, National Marrow Donor Program (BeTheMatch), SP Industries, and Ventas. Known for his high-touch, consultative approach in handling complex engagements, prior to joining Lantern Partners, Pruett held senior roles in executive search including two of the world's largest search firms. He spent the early part of his career as a consultant in the Healthcare practice at Andersen Consulting (now Accenture), where he led engagements in human capital, organizational development, and change management.
"We are seeing historically stand-alone healthcare organizations begin to evolve into larger healthcare hubs within their communities. When it comes to bringing in the right talent to lead these organizations, Lantern Partners is perfectly positioned to help its clients navigate this transformation. I am passionate about recruiting executives for outstanding and inspiring purpose- and mission-driven organizations in healthcare, life sciences and beyond, as these clients will have profound impact on their respective industries," said Pruett. "I look forward to contributing my expertise and perspective in building out Lantern's healthcare practice and positively influencing our clients' ability to grow and succeed in a constantly changing industry."
Outside of his position with Lantern Partners, Pruett has been appointed to serve on the Board of Trustees for Bishop Anderson House (partner with Rush University Medical Center) beginning in June. Pruett earned an MBA in Healthcare and Marketing from Washington University in St. Louis and a BA in English from the University of Michigan in Ann Arbor.